Levitt's Latest Comedy: "Party Games"*Winner Of The Best Director Award at the NY Independent Film & Video Festival, 2004*
"New York is a 24 party where the only rules are...there are no rules"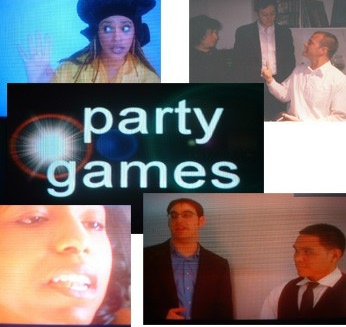 "Party Games examines the nuances of flirting, relationships, and religion, in the backdrop of a familiar New York City party. With a witty script, talented multi-ethnic cast, intriguing Magic Bullet lighting effects, and inspiring music Party Games is one of the most entertaining 25 minute jaunts you can take."


The History Of Party Games
"Party Games" writer/actor/co-director/producer, Mark Levitt wanted to create, control and protect his own artistic visions. So, With a very modest budget and a group of diverse talented local film crews, Mark and Luis quickly turned out three films: one a workplace comedy and two serious Jewish Themed films. his, Party Games, is their most ambitious work yet. Using the newest film and editing technology and their largest cast (30). The project was originally intended to be a live theater showcase of three different scenes. But with schedule conflicts and budgeting concerns, the filmmakers felt their ideas and message could most efficiently be preserved on film. Besides Mark, his wife Monica, also serves as one of the central members of the cast. But, despite working together and donning so many hats, their were no ego clashes and no "celebrity type meltdowns". On the contrary, everyone found this their most creative and productive project to date. Hopefully the film-going public will agree!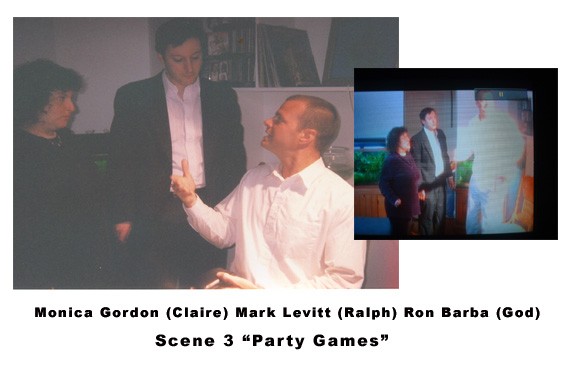 Bio of Mark Levitt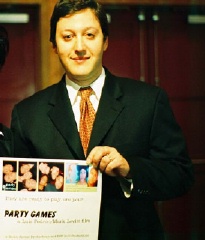 "Party Games" writer/actor/co-producer/director, Mark Levitt received his B.A. in English from Boston University. Mark is a published comedy writer with several of his articles appearing in magazines like, "The Door Magazine", The World's Pretty Much Only Religious Satire Magazine", and "The Journal Of Irreproducible Results, Official Organ Of The Society For Basic Irreproducible Research". Mark has also lent his irreverent wit to cartoon panels in the "More Please, Macaroni & Cheese Cookbook, Published by Plexcentric Corp. Besides the comedy "Party Games", Mark has collaborated with actor/co-producer/editor, Luis Pedron on two Jewish Themed shorts, "Hitlerís Ghost" and "Ronaldís Trick" as well as the multi-award winning comedy short film, "Receptionist Smart" (winner of the independent achievement award at the NY Independent Film & Video Festival, 2002, Best Comedy "Funny Bone" Award at The Festival Of The Macabre, and the prestigious "Goldie Award". The film was also an entry in the International Festival Of Cinema & Technology World Tour, 2004) In addition to the screenplays he has produced, Mark has also written over 30 comedic scripts that he intends to compile and publish in a full volume.
Mark's other acting credits include: "Henry" in Edward Albee's, "A Delicate Balance", "Juror #5" in "Twelve Angry Men" by Reginald Rose, "Mr. Turtle", in Emmet Lavery's, "Murder In A Nunnery", "Mr. Macafee" in "Bye Bye Birdie", and "John" in A.A. Milne's, "Man In The Bowler Hat". For more information, Mark's website adress is http://www.marklevitt.net


The Cast
Mark Levitt-"Ralph",Your Host and party animal
Monica Gordon-"Claire", Your hostess with the mostest
Dave Waxman-"Randall", Shrink wannabee
Chantal Chapoteau-"Charlene", The femme fatale
A.J. Alvaira- "Cletus", The thinking man's caterer
Bruce Jimenez-"Mumford", The Perv
Ian Kerch -"Lenny", The scorned lover
Karen Cristello, "Evelyn",The woman in comfortable shoes
Ron Barba"God Almighty",The supreme being
Camille Delgado "Narrator",serving it up freaky style
Christa Victoria"Singer", "Killing us softly with her song"
L. Pedron "Lenny", sufferer of foot-in-mouth disease
The Crew
Directors:
Luis Pedron
Mark Levitt
Assitant Directors:
Rob Zimiga
Ernest Concepcion
Screenplay:
Mark Levitt
Producers:
Mark Levitt
Luis Pedron




Associate Producers:




Monica Gordon




Wayne Pulver




Anthony Alvaira





Directors of Photography & Editors:

Borrero Bros





Production Designer:




Ernest Concepcion





Sound:




Joe Bonaventura





Boom:




Nick DeCicco





Electric/Grip:




Elizabeth Singer




Jay Rose




Anthony Alvaira





Make-up:


Cecilia Abraham

Party Games...coming August 2004 to a film festival near you. So, let the games begin!!!!!!!!!!!!



Click banner to return to Levitt's homepage