Levitt's New Film: "Receptionist Smart""A Dark Comedy About The Dog-Eat-Dog World Of The Office Politics"

Winner: Independent Achievement Award - NY International Independent Film & Video Festival 2002


Winner: Funny Bone ( Best Comedy ) Award - Festival of the Macabre, Latrobe, PA 2002


Winner: Grand Goldie Award - Goldie Film Award, Palatka, FL 2002


Entry: International festival of Cinema & Technology Tour- New York, Toronto, and Australia 2004

The Word Is Out...It's high praise For "Receptionist Smart"
Here are some judges comments for "Receptionist Smart" from the International Festival of Cinema and Technology 2004 World Tour:
"Funny, good writing. "
"Funny! Great theme! Beautiful acting!"
" Best with the inventive absurdities, Merits an 8 for music placement. "
Here's What Other Critics Had To Say:
"Mark Levitt's shamelessly obsurdist comedy, "Receptionist Smart" is unnervingly twisted and unstoppably insane. It's like watching David Lynch w/o watching David Lynch--you'll keep asking yourself why"
-Vincent Nebrida (writer/producer of "American Adobo")


"Receptionist Smart is startlingly different from the usual genre of short films. In its subtle innuendos, sometimes melodramatic spasms, it succeeds in presenting a message and statement of our least known office politics.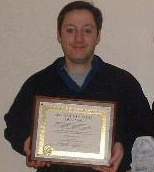 It also exposes the hidden agenda of every worker which reveals quite nakedly their libidinal accents. The entire film compresses a metaphor for our times. As a whole, I thoroughly enjoyed the sardonic humor, the rather sensuous flavor of the entire film, and the honest efforts of the actors whose abilities are worth my commendations."

Rolando A. Carbonell, author, educator, poet, critic, consultant, SCREEN EDUCATION ACADEMY FOR TEACHERS, in the phillipines; formerly president of the Film Institute Of The Phillipines; and currently one of the advisers for the OSFILM (ORGANIZATION OF SHORT FILMS), and one of the founding members of the Film Foundation Of The Phillipines.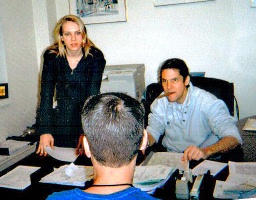 "Receptionist Smart touches on classic themes which run rampant in the workplace; rivalry, pride, politics, deception, attraction and betrayal--all the complexities of human discourse, making this a must-see for moviegoers
Brenda Palmer- Marketing/PR Expert
"Receptionist Smart. The look and feel of a soap opera warped into a subtle mix of character dementia and dark humor...great fun if you're willing to let go.
-Michael T. Schneider (dir. 'A Tribute to Sanity'/'My Crepitus')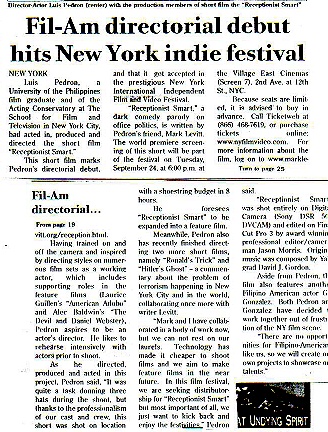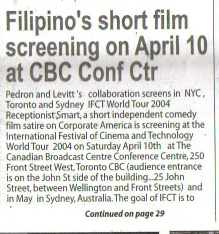 Experience the thrill of the upcoming International Festival Of Cinema & Technology Tour" with showings at New York, Toronto, and Australia... for screening schedule/place,click ICFT Tour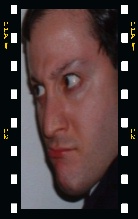 Mark Levitt- Writer/Actor



Mark Levitt received his B.A. in English from Boston University. He is also a recent graduate of the New Vision Computer School in New York City. Merging, his love for writing and his newfound web design skills, Mark Levitt has just set up his own site to announce his writing services and web design services. Mark is a published comedy writer with several of his articles appearing in magazines like, "Stitches, The Journal Of Medical Humor", "The Door Magazine", The World's Pretty Much Only Religious Satire Magazine", and "The Journal Of Irreproducible Results, Official Organ Of The Society For Basic Irreproducible Research". Mark has also lent his irreverent wit to cartoon panels in the "More Please, Macaroni & Cheese Cookbook". In the comic traditions of Woody Allen and Ben Stiller, Mark serves as both writer and actor in this film. Mark reflects, "This time out, it was a revelation to write for myself...Now I can say there are no small parts, just small writers." His other Film Scripts include, "Entertainment Alright", a parody of Entertainment Tonight, and the upcoming, "Ronald's Trick" and "Ghost Of The Past". Mark's other acting credits include: "Henry" in Edward Albee's, "A Delicate Balance", "Juror #5" in "Twelve Angry Men" by Reginald Rose, "Mr. Turtle", in Emmet Lavery's, "Murder In A Nunnery", "Mr. Macafee" in "Bye Bye Birdie", and "John" in A.A. Milne's, "Man In The Bowler Hat".



Jason Morris- Cameraman/Editor



Jason is a professional cameraman and editor, earning an Emmy for his work on the John Glenn space launch in 1998. He attended film school at Florida Metropolitan University in Central Florida. In 1998, he formed Living Room Theater Productions with his brother, Shane. Their project was the feature film, "Due Dilligence", which played at the Ajijic International Film Festival in Mexico and the American Digital Arts Festival in Florida. Jason recently completed 6 short films with his brother, Shane. Other awards: A Florida Motion Picture and Television Crystal Reel Award for Editing in 2000, ITVA Region XIII Florida Golden Palm Award for a community service in 1998, Golden Addy Award from the American Advertising Federation, Silver Award from the American Advertising Federation for editing of the New Piper Meridian First Flight Video.



David J. Gordon- Original Music Score



David J. Gordon, composer of film and concert music, graduated from Yale University and received his Masters of Music at the University Of Texas at Austin. He has attended the Film Scoring Institute at the Aspen Music Festival and has scored numerous short films. His concert music has been performed across the United States and in Europe by ensembles such as the Yale Concert Band, the UT New Music Ensemble, and Non Sequitir.
David can be reached at: David's website



Shane Morris- Soundman



After graduating from George Washington University in 1999, Shane formed the production company, Living Room Theater Productions, with his brother, Jason. Shane directs, produces and writes for LRTP. in 2001, his script "Brothers Carruthers" was a semi-finalist in the Chesterfield Screenwriting Fellowship.



John Mark Pedron- Production Assistant

He is an honor student and high school senior at the Ateneo De Loyola.


...The Recession has hit hard. Hit harder! Receptionist Smart
Click banner to return to Levitt's homepage